Related links

Cable Access
Where we broadcast from

CAC Links
Other Community Access shows

The After Party
For the musically inclined

QuickTime
Multimedia software


---
We had 10220 people visit the ZTV website between 14 February 2000 and when it closed on 20 September 2003 (as if you really cared).
---


---
ZTV WEB
Welcome back.
If you're a Community Access viewer, well, you've come to the right place. This is the ZTV Website, where we wax philosophical on our favorite show, ZTV. Our television program used to hold a Friday night spot on the television until, it was decided, in the summer of 2003 by those with the power at the Acces Center, to cancel it and resurrect the idea with a new show called "Friday Night." Shine on you crazy stars, you.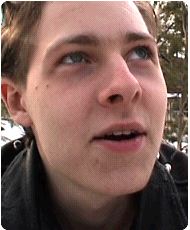 ---
THE SKINNY
The short of it.
If you want actual details about what ZTV was all about, poke around! These pages have all sorts of tidbits of information on the show. If you're down with simple facts about what the show is, and want to learn more about the people who did all the work, check out the people page, where we tell you more about us than we really need to. And, if this doesn't quite do it for you, even, there are tons of other random little pages on the site that you can find out about at our index page.
---

WHAT NOW
Is this the end of an era?
Sure it is. ZTV ran as a memorial to Tim Lyons who had a show named ZTV back when he was in high school. The second generation of ZTV ran from 1996-2003, teaching innumerable high school students the rudiments of television production in a non-classroom environment. It was a club. It was something to do before a crazy Friday night, and got us into more shenanigans than most people would think humanly possible.
At any rate, this website will remain archived as it was in 2003, with a few obvious ommissions (e.g. news and schedule) and will be very rarely updated. However, this is still the only place to learn all you need to know about ZTV, the members of ZTV, and the Jello Embargo.
---

THOSE SILLY SCOUNDRELS
Disclaimer for past, present, and future.
ZTV is by no means responsible for content. Whatsoever. So if we've got a dancing guest who is rockin' out like it's the mid-1980s, it's not our fault. If Mark F. Monk tells stories about hot dogs, and it's really gross, it's not our fault. If you call, and it's not live, and you reach an amature proctologist, it's not our fault. In fact, nothing is our fault. In fact, we've never done anything wrong. You (the end-user) are bound to our terms, and are actually bound by the ZTV Watchership Agreement (hereafter reffered to as "the Agreement") to bow down before us should you see us on the street. Or anywhere. Or anywhere we may've been. So watch out!
---