Involvement
This page has all the information you could ever want about joining ZTV. Remember, though...this is all just an archive now, and we're not really accepting any new members.
Related links

Community Access
This is the station who puts us on the air, and where we broadcast from.

People
Learn more about your favorite ZTV stars.

Talk to us
If you want to be on the show, write us...we don't bite, at least after the rabies vaccine.




---
So, here you are, lost in the wilderness of that cold lonely place called your computer. You've somehow stumbled across our site, and probably because you wrote it down when you were watching our show. Well, congratulations and welcome. And, if you're in high school, well, why merely watch us when you could be on TV yourself?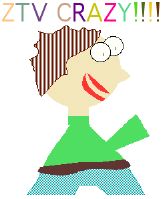 ZTV is a show made mostly by folks in high school. The folks on the show get to pick the topics, be on the air, run the behind-the-scenes stuff, get free training on television equiptment, and, well, get to do all kinds of wacky stuff. It's a fun activity to get your weekend started with, and will let you meet all kinds of only mildly sane people who are also into making television.
Now, really, I bet you're asking, how the heck can this be? Or maybe you're not. I really don't know what's running through your head. But ZTV sure can use some extra folks. So what are we loooking for? Well, if you're technically inclined, there's tons of flashing lights and buttons that will give you hours of interest. Or perhaps you've got a band and you'd like to play on air. Maybe you're talkative and have a slight knack for the limelight. Perhaps you like photography and would like to get into video. Well, then, why not come on down and give us a visit?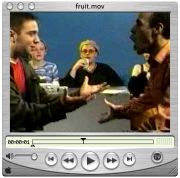 So, if being on TV sounds like a mildly interesting activity to you, and you're thinking of dropping by and would perhaps like to learn a little bit more, give us an e-mail and we'll fill you in on the details (like, perhaps, where Access is and how frequently we eat pizza before the meetings)
Just remember, you can't spell ZTV without U! Or, well, yes you can. Sorry. Really, please help out however you feel inclined because, er, maybe you can spell ZTV without a U, but if we don't have you the viewers, where would we be? And we has a double you. Hey, that works.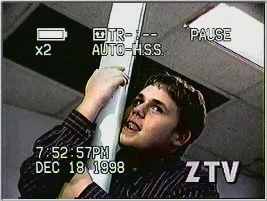 ---
After this article was written, the ZTV Webmaster was tortured and chased around the block with a large foam bat for his use of schmaltzy phrases. He has returned mostly unscathed.